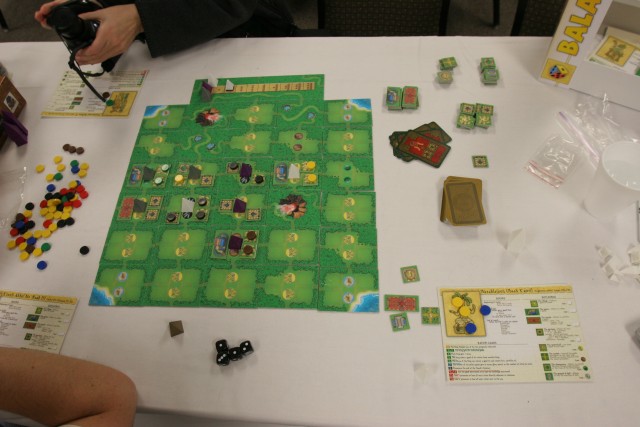 Last night, Mike told me to try out Balam. He had liked it. So, when I saw
it in the library, I checked it out. And for the first thing today, I sat
down and started puzzling out the rules. Luckily, two people came by and I
convinced them to play the game. There were English rules, but the translation
was really, really, bad. It lead to a lot of confusion. But we persevered
and finally figured out how the game play went.
The first city that I built was simple (two villages and a palace). The
next city was placed on a 4 spot obsidian tile and built two villages and
two garrisons. This immediately caused a reaction as the other players
scrambled to build garrisons as well. I was not going to provoke a fight
yet. However, Nightmare
decided to attack me. I was a little suspicious when she picked me and
not her boyfriend. But I could see that my city was undefended and his
was not. She rolled a two and got to destroy my palace. I realized that
this effectively took me out of the game since I could not move the goods
that are produced into my king's personal finances. Which meant that I
could not build buildings anymore.
So, after we had discussed this all out, I retaliated and picked one of
her undefended cities and rolled a 3. This destroyed her palace and a
village. Two people out of the game on turn 3. And upon a reread of the
rules, I notice that we missed the "Leniency of Chaak" bit where we get
two more corn goods on each round before the Eclipse.
We decided to call the game at that point. I was happy that I played it
though. That play certinally took it off of my buy list. Because I have
heard that the bad events are really nasty in this game. Maybe it just
needs the proper mindset from the start to plan for catastrophies or
wars to turn it into a better experience.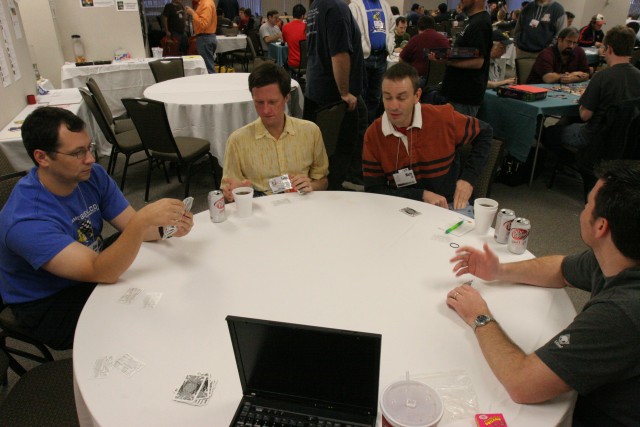 We tried a hand of Control Nut and then moved to the game of Mu. Marty went
out looking for a fifth and found Lewis. So we taught the game to him. I was
successful in my powers of suckup. He picked me twice as a partner because
of the cards that I was displaying. Unfortunately for us, we failed our goal.
I was also more agressive in bidding in this game. I made one goal and lost
another (to Gravitt of all people ;).
Minor regrets:
Not playing more new Essen games. My main goal of this con was to check out
all of the releases and determine if I should buy them.
Some new Essen games had no English rules translations yet.
Not playing a full game of Tichu at all! WTF?
Being burned by the camera flash. Apparently, it was not having enough
power to recharge the flash. But it had enough power to keep the display on
and make the capacitor whining noise. Which made me think that it was on but
not working for some unknown reason.
Not playing disc golf in Dallas or in Waco on the trip up or back. No biggie…
Interesting facts:
I only checked out two games out of the library (Fiji and Balam) and I didn't
bring any games from home to the con.
Still, it was a blast.