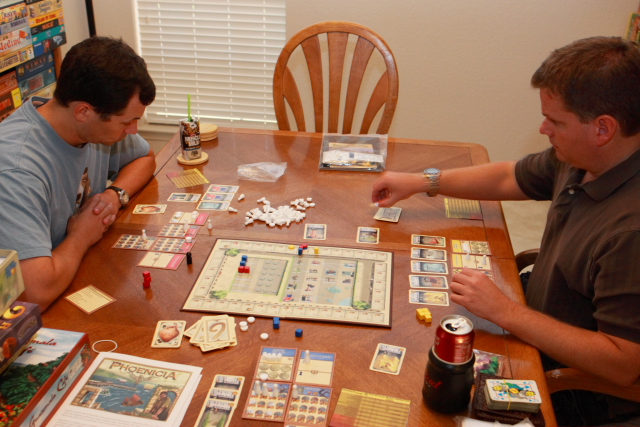 First up was Phoenicia again. This time a fort was in the initial three cards. I had seven dollars, so I bid on it and won it. This hurt me getting my initial production ramped up for a couple of rounds. But with two forts in the game, I thought it was worth it. John went for dye houses and was able to purchase both of them. But he was unable to get a fort. Which meant he was limited in the number of workers. I went after mining. However, in a three player game, there is only one smelter. So I was only able to convert my mining into improved mining. I was eventually able to move all of my workers over to mining and keep my production in the lead. Mike was certainly lagging in production. But he was able to buy a city center.
And then came a critical round. I wanted a public works. I made a mistake in letting Mike get the first one cheaply. Mike then bid all of his money for the second. Which was more than I wanted to pay. I turned my sights on the Refugee Settlement, but John bid all of his money to get it. Mike was then able to get a City Walls to go beyond 28. John bought the Trade Fleet. And I bought the second City Walls. I was hoping to buy the Trade Fleet as well to first place guaranteed. But I was able to train enough workers to pip Mike at the end.
Next time, I will try and remember just how important the City Center/Shipyard and the Public Works are to end-game victory point generation. It is not just about ramping up your income production.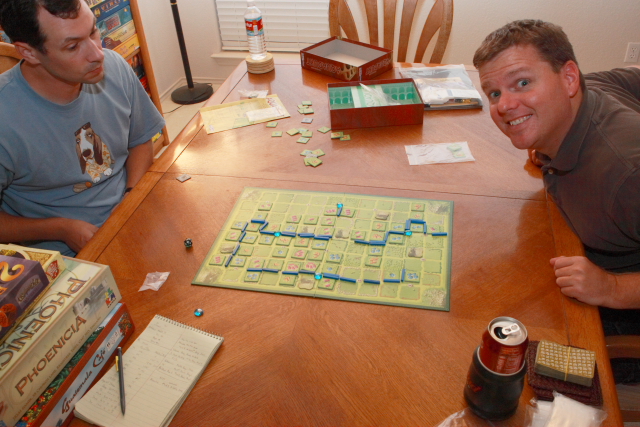 John brought out Aquadukt which is a short and simple dice fest. But not the kind of dice game that I like. On your turn, you can either place up to three of your houses randomly (with a 20 sided die), place a well, or build irrigation channels. Houses can only last on the board if they are next to a 1-sized canal or up to two away from a 2-sized canal. The strategy in this game is when and where you place the wells, and how you extend the canals. When you place houses, it is random in which of the 20 neighborhoods you can place a house. And you might have a choice on where to place the house in the neighborhood.