Wow, I can't believe that this is the third year of Lone Star. More after the cut…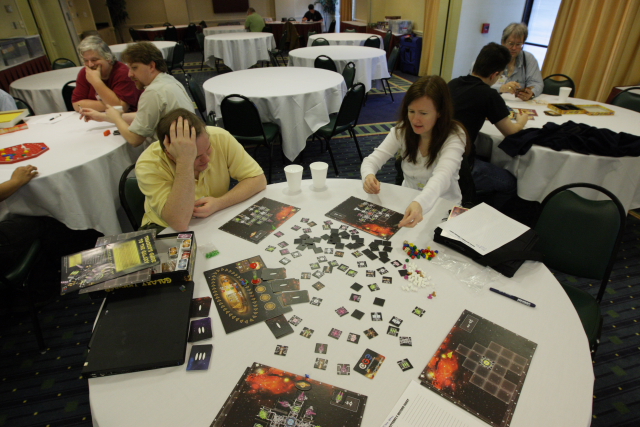 First up was Galaxy Trucker. And, wow, what a brutal game it was for me. Tim would finish building his ship first and then choose the second place starting position. I would finish second and then have a dilemma. Do I choose the last starting position or the first? The last starting position is safer, but poorer. You do not get to pick up the best goods. So, in order to do well in the game, you need to be out at the head of the pack. But you are the first to face dangers like pirates, slavers or smugglers. I decided to go first. And suffered the consequences. And also sat through Tim's enjoyment of my destruction…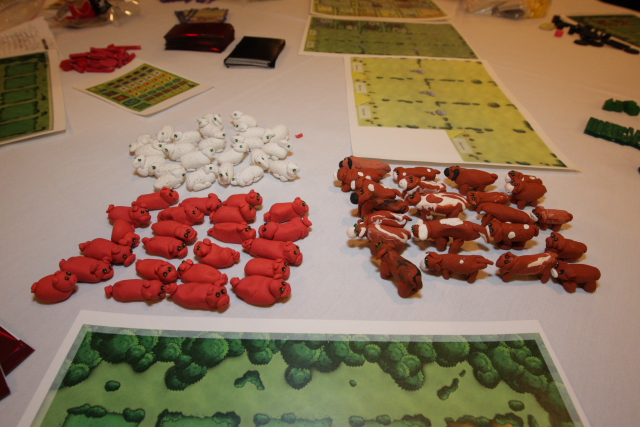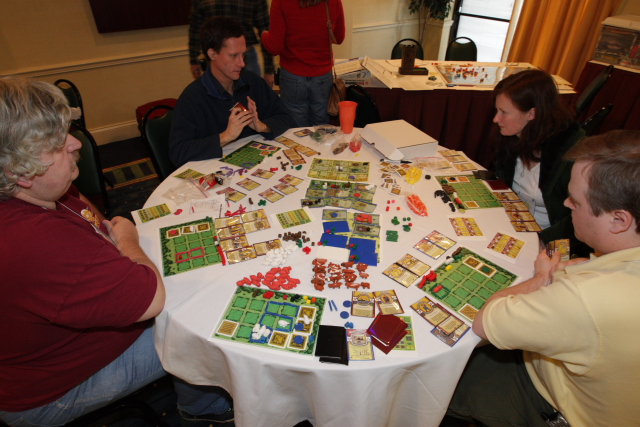 Next up was Agricola. With cute, hand-made, animals! This was my best game of Agricola so far. But I had one critical weakness. At the beginning of the game, I was doing alright with my food gathering with the card that doubles the fish in the lake. However, I knew that it wouldn't last. If certain tools were played, then I would have to give up some of my fish to others. And that made the card less desirous to me. I knew I had to switch to a different food source. In fact, if I didn't switch, I would likely end up last. So it was do or die. I needed to buy an oven to convert some of my spare animals, wheat, and vegetables to food. But Mary was the first person to move. And she was considering purchasing that oven! Fortunately, she did not. But I was really worried there. I know I should have let myself get into this situation. Hopefully, I will remember to avoid it in the future.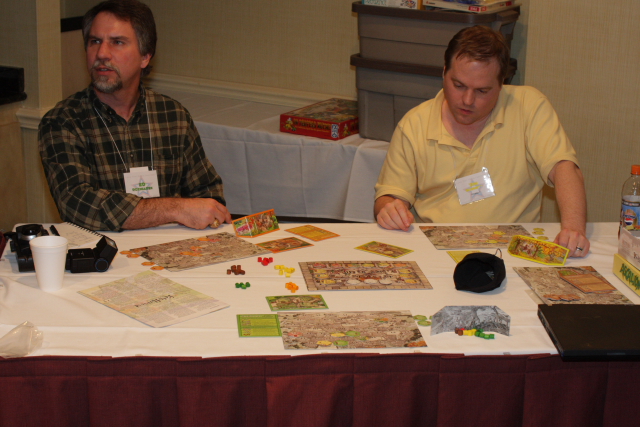 After two playings of this game, I still view this game negatively. Which saddens me, actually. I had high hopes of another good delivery from the designer. The main negative point that I have about this game is the perceived lack of alternates you have when the person in front of you takes the tiles you were planning on acquiring. I think that this game's days are limited…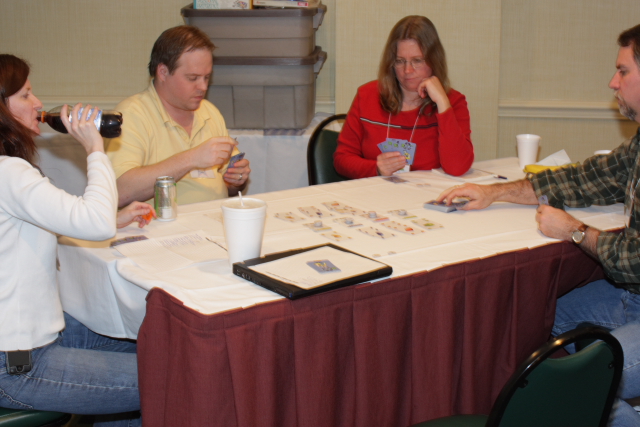 This is the first time that I have played this game. And I liked it. The theme works with the mechanics. And it plays relatively quickly.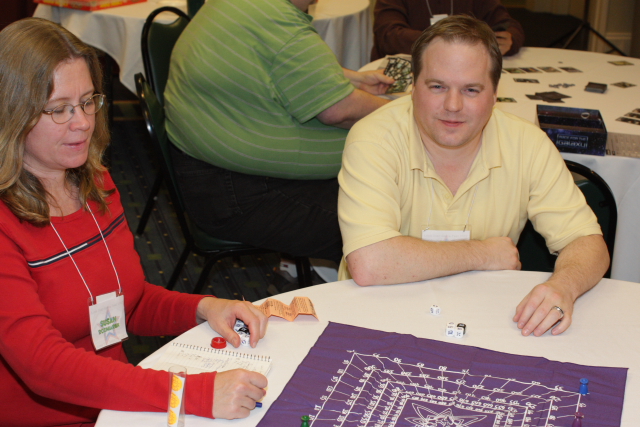 Tim brought out this dice game. And I happen to like dice games. But, with the way that we played it, this game was terrible. Tim suggested that we use all of the variants at once. But that made my decisions rather forced. Whenever certain combinations of dice were rolled, you were forced to continue rolling the rest of the dice. And it was rather easy to bust out. This happened a lot to me and I came in last because of it.
I am glad that I had an opportunity to play this game. My only mistake was I did not go after the Castle as my winning build. I had already scored 6 point and needed 4 more for the win. But I decided to build two lower valued structures instead of jumping to take the lead in what Mike was going to build.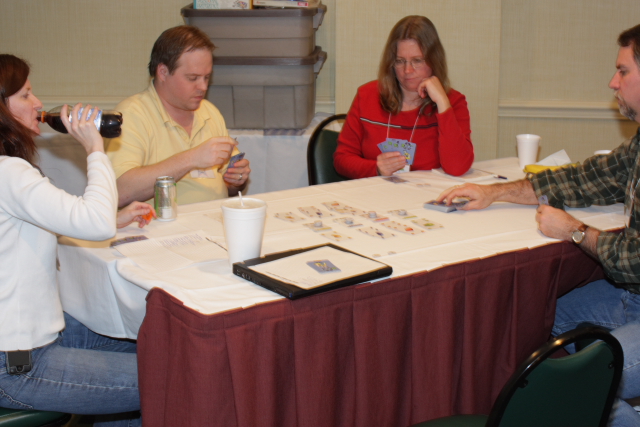 I am conflicted about this game. I am glad that I played it. But it was the longest game ever! We started at 1:30 (at least with the rules explanation) and finished at 11:30! We took a break for the 42 tournament, but still. Ten hours is far too long.
Susan played with us. As a newbie, she did rather well. But ignored her military defense. So both Marty and I started picking on her. Both to take down her victory point generation and to score victory points off of her. It was not the most comfortable thing to be doing. But I knew that, as an avid gamer, she would understand.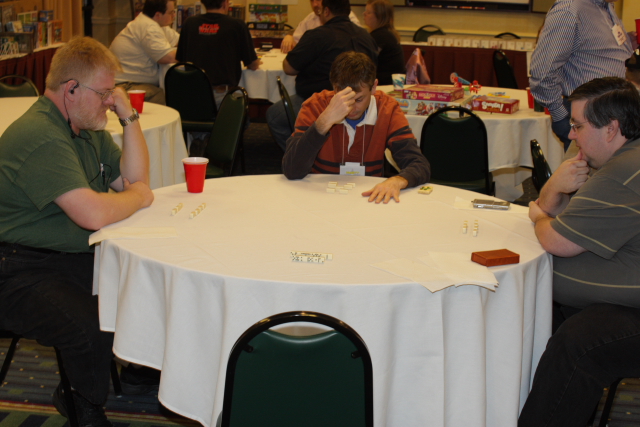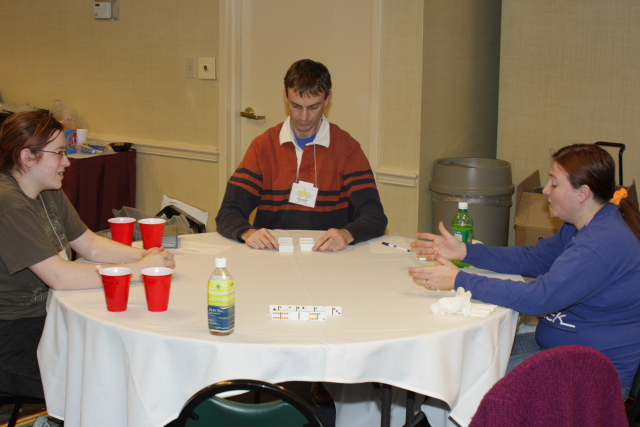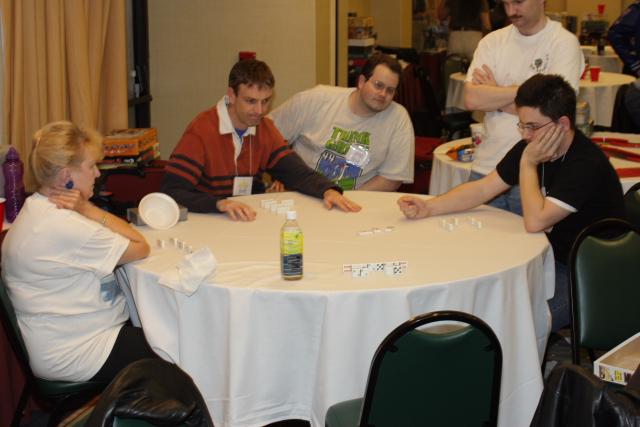 I play 42 a lot now because our lunch time group has disappeared. But it is quite a different game from the version that we played for the tournament. The ability to lead the low side of a bone at the start improves your hand. We didn't play that. We also used the variant that you could call nillo at anytime. Which is far too powerful. And, strangely enough, we didn't allow the variant of "doubles in the suit of their own." Which caused confusion for me during play of one hand. As it is quite different than "doubles as trump."
We started off against the previous winners of the 42 tournament. Which worried me greatly. But we maintained status quo with them. And eventually won 7-6. The final hand was interesting. I had 5 threes and two doubles. So I called one mark. The last person went over me with a two mark nillo bid. Fortunately, we were able to set him. We slaughtered the next opponents. I think that the final score was 7-1. For the final round, we raced to the finish at 6-0. But the other group persevered and came back to win it at 6-7. Sigh.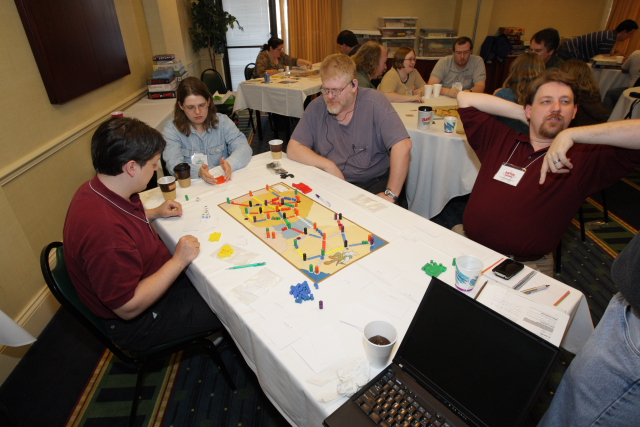 This is a short and light dungeon trawl game. Well, more like a monster encounter game. There are less encounters than there are players. So you have to make a hard decision as to which card to go after. If you end up alone on the card, you get it for free. Otherwise, people have to decide if they are going to be friendly and cooperate or enter a bidding war for sole ownership. The rewards are diluted if everyone cooperates. it was not a bad game, and I would play it again.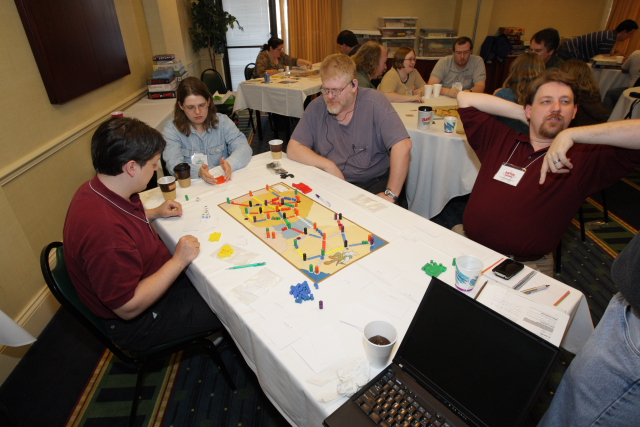 I tried out one of Kevin's prototypes. Its diced based and route delivering. And I would like to try its final form as well, to see just how much has changed…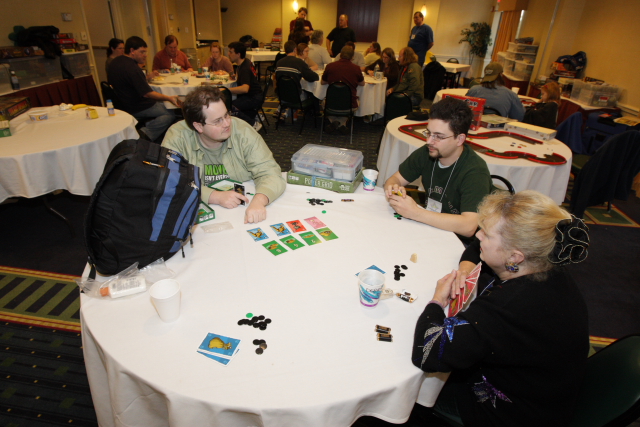 Friedemann's light filler game was fun. This time, I made sure to keep a supply of money on hand. And not get too low on it which would force me to bow out when I would want to stay in. I did pretty well. And only had one hand where I won all negative cards. But the later cards that I took more than made up for it and I finished the game by winning it.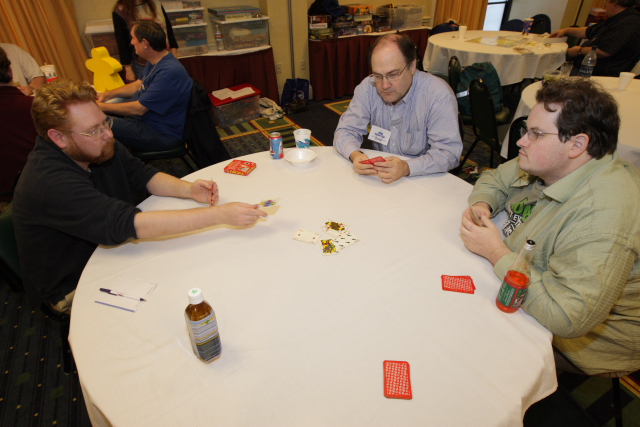 Wow, the last game that I played was Tichu. Brandon and Gene had the unfortunate luck of bad cards and newness to the game. But, hopefully, they will continue to play it in the future.
Gene did have the pleasure of calling Tichu and being stuck with the Dog as his only card. And also making a desperation Grand Tichu bid. Both are fun experiences. 😉

12/30/2007 The scorecard for a game of Tichu

GT or T bet

made

or

lost



This team scored

more points

than the other or

one twoed




GT/T
Team #1
GT/T
GT/T
Team #2
GT/T
Tim Houston & MarkH
Brandon & Gene
T+
T-
-120
-85
320
T+
125
675
T+
125
715
T-
T-
-5
845
GT-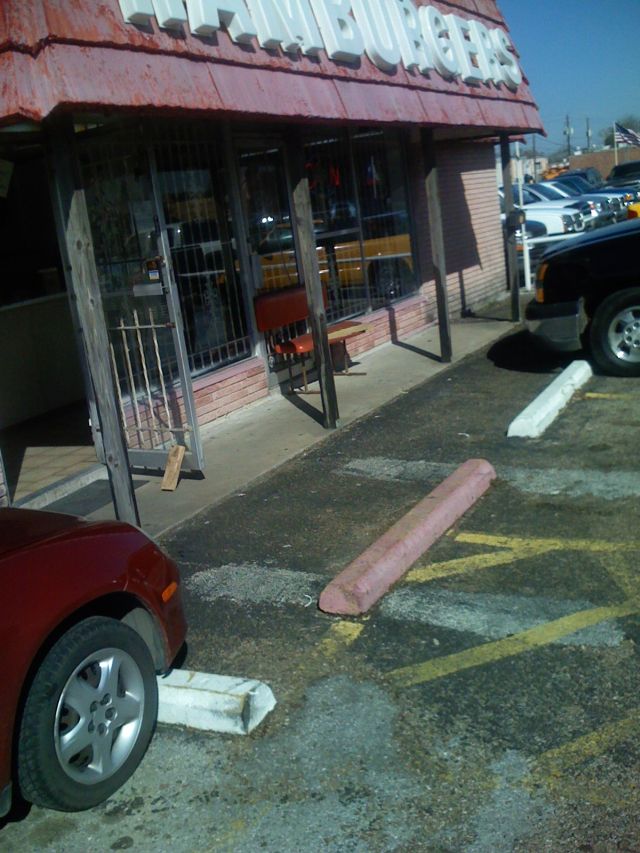 The food in Houston was so-so this time around. Tim recommended Magic Burger, which was a burger joint. The place was a real hole in the wall. And it surprisingly enough had some fried seafood on the menu. I wasn't too fond of it.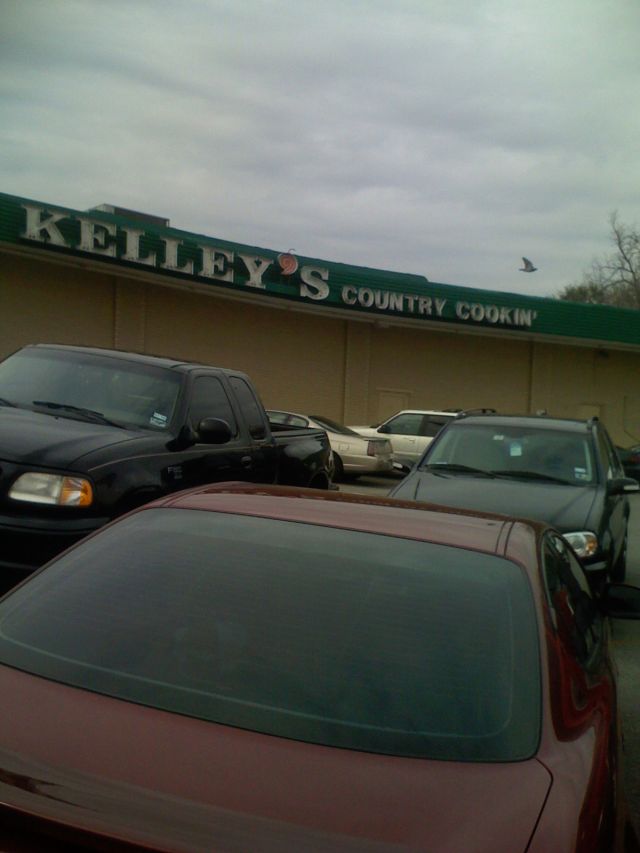 Another close place was Kelley's Country Cookin'. The building looked like it had been around for a while.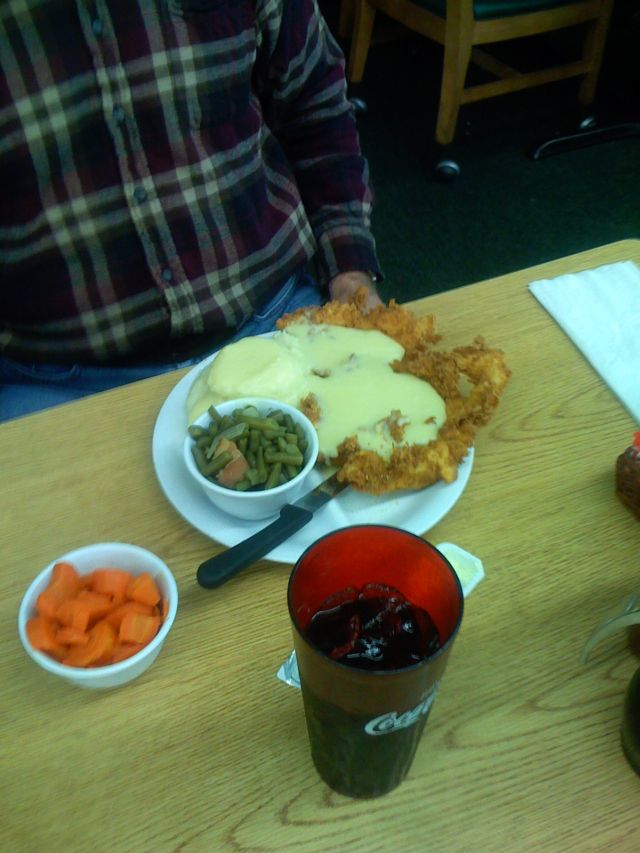 The portions were certainly huge! Unfortunately, they were not really vegetarian friendly. Susan ordered four vegetable dishes and three of them came with bacon bits in them! The remaining one was swimming in butter. Another amusing thing was that the spinach had dyed the bacon pieces a fluorescent green!
Luckily, I was able to go to another Brazilian Steakhouse called Churrascaria Nelore! They had a couple of differences. Their salad bar was not as good as Fogo de Chao or Texas De Brazil. But they had chicken hearts as one of their meat choices. And they had a good dessert called the Papaya Cream which was topped off with some Creme de cassis.
There were two restaurants that I wanted to try but did not get a chance to. The first was Tafia. And the second was Lai Lai. Next time for sure!