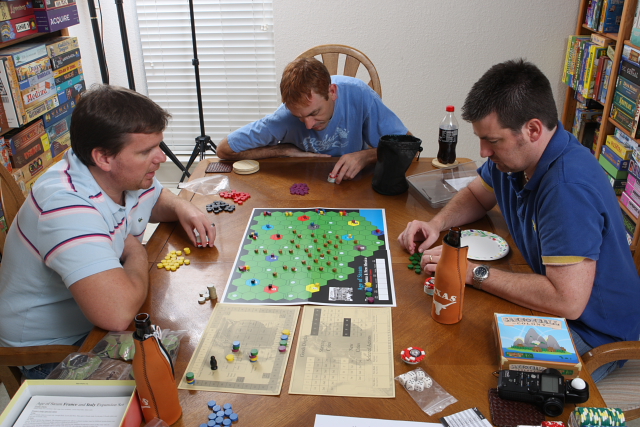 Age of Steam Expansion – Texas, Oklahoma & New Mexico
Winsome's 2008 Essen pack was shipped early to me. In it was an Age of Steam expansion about Texas and cattle. We tried it out. Of course we got a couple of the rules wrong. But that did not make this game broken. In fact, it made it harder. Which, in my opinion is a good thing. This expansion is designed to make it easier for beginners. There is the normal goods on the board. And there also is a bunch of cattle which can be transported as goods. This is way too many goods for a group of seasoned players. So the mistake of not filling up the new goods section turned this game into a more normal version. With an interesting cattle twist.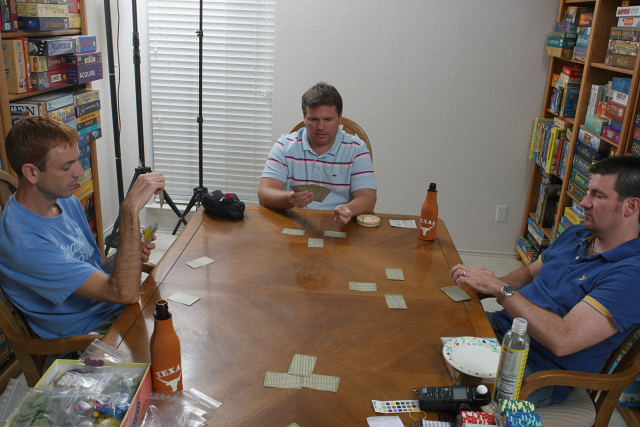 We finished up with an abbreviated game of Suicide Tichu. This was Marty's first time and he liked it.

08/28/2008 The scorecard for a game of Tichu

GT or T bet

made

or

lost



This team scored

more points

than the other or

one twoed




GT/T
Team #1
GT/T
GT/T
Team #2
GT/T
MarkH & MikeCh
Marty & Jon
T-
-100
T+
300
GT+
225
T-
475
T+
T-
125
T-
370
T+
T+
470
T-
415
T-
T+