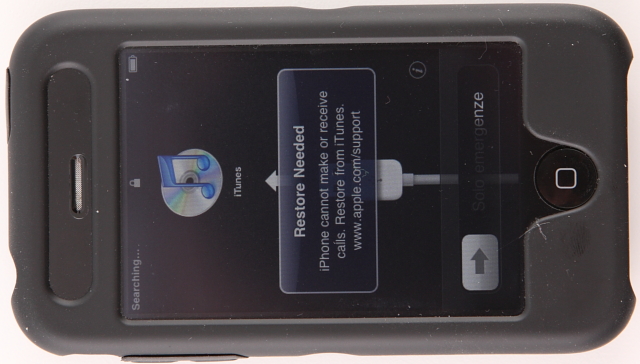 My iPhone unexpectedly had a software problem today. Unfortunately, it exposed a catastrophic flaw. This morning, as I was out playing disc golf (using the phone: recording scores and taking pictures), I noticed a strange message on the phone. Unfortunately, I didn't get a picture of the message or record it. But the gist of it was that it could not authorize itself and it needed to connect to iTunes. I was able to still take notes and take pictures while it was in its problem state. But the message was worrying me. So, I thought that if I turned it off and then turned it back on, it might clear itself of the hiccup. Boy that was the wrong move! Now the phone wouldn't even finish booting up! And it was now a very expensive brick.

So, when I finally got home, I connected my iPhone to the computer and tried to sync it. This was what I saw. My phone is locked with a passcode and it will not allow a sync. Normally, when the phone boots up, it requires you to unlock it with the passcode before it completes the bootup sequence. Well, I guess it checks for authorization BEFORE it allows you to unlock it! Now I cannot connect to it. Argh!

So I searched online and found a process to get it into recovery mode. You have to power it off forcefully (press and hold the power button and then slide to power off) and then press and hold the home button when you plug in the iPhone to the computer.

Great, my iPhone is in recovery mode. Now, all I need to do is perform a recovery option in iTunes and we are all set. Wrong! I cannot restore it. The helpful error message of 23 is my only clue. Sigh. By this time it is getting late on a Saturday. So I race down to the Apple store to see if something can be done. The store was freakin packed! And it looks like the genius bar is full for the day. But I hang around and an employee walks up to me and asks me if I need help. I explain my problem to him and he checks it out. When he comes back, he tells me that the USB connection is broken and that they have replaced my phone for me. Yea! One thing went right today. Well almost. I had been a bad person and not been performing regular syncs with my phone. So when I went back and restored my phone, I found out that the latest backup was a month old…