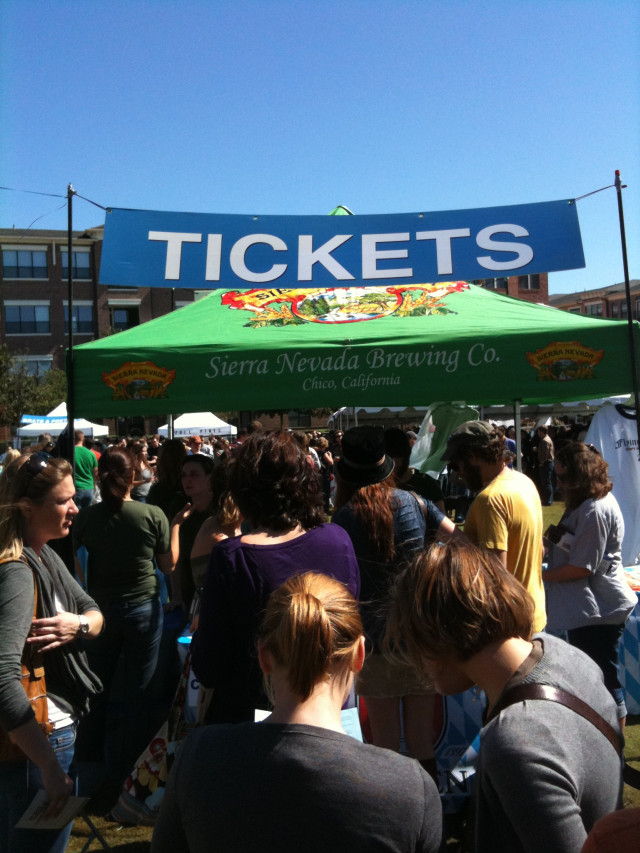 The Flying Saucer Draught Emporium held its second annual Fall Beer festival. Unfortunately, I missed the first one.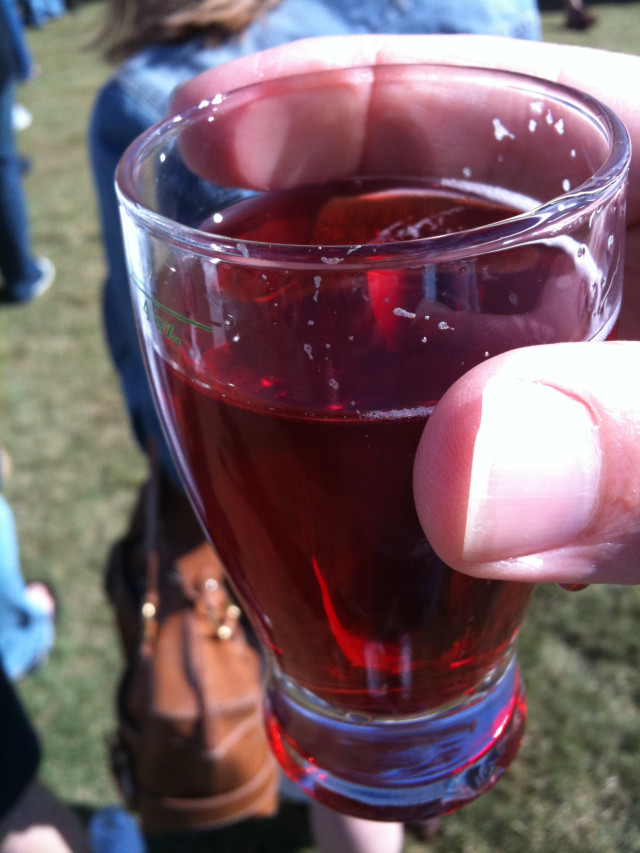 For $15, you get a four ounce glass cup and 10 tastings. And, for an extra $5, you also get the option of tasting at a special tent with some rare beers.
Full details of the beer follows:
The beer that I could choose from was the following: (UR not worthy costing the extra $5)
EAST COAST TENT

Allagash Four –
This Belgian Style Quad Pours a dark brown to dark orange with a full finger
head. Blended malts, dark and tropical fruits, and yeast are found in the aroma.
Flavor is a complex dark fruit melody, earthy yeast tones with a nice warmth on
the end. 10% abv.
Brooklyn Oktoberfest –
This Marzen is a good example of the style. It is dark amber in color with a nice
malt & hop balance. It finishes slightly sweet.
Victory Storm King –
This is an Imperial Stout. It has a huge, Pacific Northwest hop aroma and
character upfront. Storm King subsides into massive, roast malt complexity.
More flavor than mere words can adequately describe. Rich and substantial, it
will warm your heart. 9.1% abv
Dogfish Head Punkin –
Tasty seasonal treat. This pumpkin spiced ale is full bodied with a delightful
brown sugar flavor that creates a good balance with the hints of pumpkin. 7%
abv.

WEST COAST TENT

Stone Sublimely Self-Righteous Ale –
Deep brown in color with a fluffy tan head and a pineapple hop aroma.
Complex in taste that varies from a grapefruit citrus up front, yet finishing off
with a bit of chocolate and smoke flavors. 8.7% abv.
Green Flash Hop Head Red –
This award winning Amber pours a deep mahogany red with a solid off white
head. Aroma is bursting with spicy citrus hops and a light maltiness. The flavor
is of complex citrus hops, orange, grass and toasted caramel malts with a splash
of toffee.
Lagunitas 13 –
Clear copper appearance with a solid off white head. Aromas are of pine, citrus
hops and hints of caramel with slight alcohol presence. Sharp hop notes with
some sweet malts that hold the hops nicely. 8..3 % abv.
North Coast Red Seal Ale Cask –
American style pale ale. This fine beer is bronze-red in color with the
tremendous hop taste and floral undertones of cascade hops. Cask-conditioned,
Red Seal is a bit smoother, more mellow, and more rounded and refined than the
traditional offering.

CAP'N KEITH'S PICKS TEST

Anderson Valley Oatmeal Stout –
Pours a rich chocolate brown with a thick tan head. This beer is light in body
compared to most oatmeal stouts. Coffee, chocolate, and some oatmeal are
present in the aroma. One can detect flavors of more chocolate, faint oatmeal,
molasses, and toffee. With medium carbonation and a smooth mouth feel, this
is an enjoyable beer for any season.
Sierra Nevada Edge of Darkness –
A special Brew with the help of our very own Cap'n Keith. This a big brown ale
full of roasty, nutty malt character, notes of caramel and toffee, and hints of
chocolate. bittered with Bravo hops, and flavored with 55 pounds of whole cone
Centennial hops.
Green Flash west Coast IPA –
This award winning IPA pours a hazy ruby amber with a full two finger head.
The aromas are of citrus hops, caramel malts, and tropical fruits. An explosion
of upfront hops with some balanced malts that finishes dry. 7% abv.
Ska Modus Hoperandi –
This IPA pours a deep orange color with a thick frothy head that leaves great
lacing. A grapefruit and pinecone smell dominates the aroma. This beer is
definitely hoppy – lots of citrus, but it is well balanced by the caramel malts that
come out after the initial hop burst. Medium-bodied with an abv of 6.8% abv

TEXAS TENT

St. Arnold Divine No. 8 – (VERY LIMITED)
Pours a rich deep mahogany with a full thick off white head. Smokey, roasty
malts and some light peaty notes are found in the aroma. Sweet toffee, light
peat and some dark raisins produce an easy drinking beer. 9.3% abv.
Live Oak Oaktoberfest Cask – (VERY LIMITED)
Classic style of beer for Fall. This beer has a rich malt flavor & Live Oak uses
German malt and hops to give it an authentic Bavarian character. Nice rounded
beer with good caramel character.
Real Ale 13 Anniversary Ale –
Using a Belgian yeast strain, Real Ale added copious amounts of Amarillo hops
It's orange in color and hoppy, citrus notes, spice, and Belgian yeast. 7% abv.
512 Pecan Porter –
Pours nearly black with a thick off white head. Coffee, roasty malts and hints of
hop and pecan are found in the aroma. Flavor is a smooth well balanced roasty
malt, and coffee with a pecan finish. 6.8% abv.
Independence Imperial Oatmeal Stout –
A rich, full-bodied Imperial Oatmeal Stout. It pours a dark opaque, almost
black, with a thick, creamy head. Noticeable aromas of coffee, brown sugar, and
sweet homemade toffee. Nice flavors of milk chocolate, slight smoky notes and
molasses.

UR NOT WORTHY TENT

Dogfish Head Burton Baton –
This is an interesting Imperial IPA that has been conditioned in French Oak
barrels for 4 months and dry hopped with Glacier hops. This strong beer has a
deep amber hue with a frothy head. It has a sweet malt aroma with some strong
oakiness and intense hops. The flavor is on the sweet side with rich oak notes
and a peppery finish. 10% abv
Breckenridge 471 IPA Cask –
Not your typical IPA, instead, this is a Double IPA with a big sweet mouth feel
that is balanced by aggressive hoppiness. The brewers employ a British Ale
yeast which imparts its own aromatic qualities. This Copper monster comes in at
9.2% abv.
Boulevard Smokestack Tank 7 Saison –
Cloudy straw color with a hint of orange. Spicy, Belgian yeast aroma with a
noticeable hops too. The taste is similar to the aroma with some pepper and a
slight funkiness at the end. Nice carbonation and mouth feel. 8.5%. abv
New Belgium Transatlantic Kriek –
This beer is a rosy pinkish red color with a smallish head. It smells of cherries
and earth. It is tart like a Iambic should be with some cherry flavor. (quite tart)
Out of that list, I drank: (and rated on a scale from 1 to 10, 10 being awesome)
St Arnold Divine No. 8 – 7/10
Independence Imperial Oatmeal Stout – 7/10
Anderson Valley Oatmeal Stout – 7/10
Green Flash Hop Head Red – 5/10
Dog Fish Head Punkin – 9/10
Dog Fish Head Burton Baton – 6/10
Brekenridge 471 IPA cask – 6/10
Boulevard Smokestack Tank 7 Saison – 8/10
New Belgium Transatalantic Kriek – 8/10
Cali-Belgique Eacondito CA – 6/10
I had a fun time drinking the beer. Although I will complain about how I did it. Essentially, you got in line (at one of the five tents) and then waited. You picked your beer and walked back to the end of the next line you wanted to wait in. While you were waiting, you drank your beer and people watched. Then you ordered another one and repeated ad nauseum. Also, the lines were long so half of the line was in the sun and half of it was under shade. At least the weather was beautiful out!