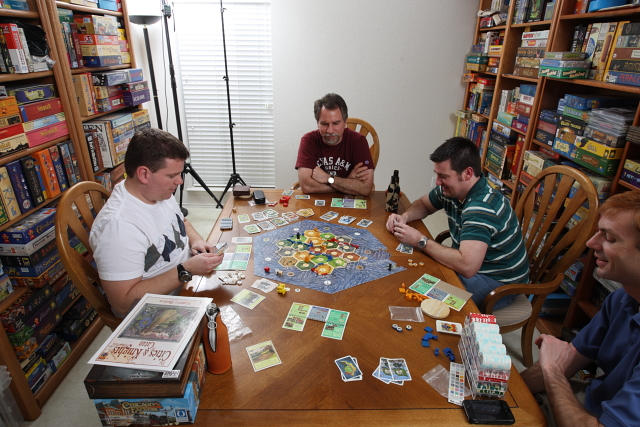 We started out with a game of Cities and Knights. Mike had been wanting to play this. So we accommodated him. I was the third player to start. My first pick was okay and my second pick was not good at all. I had an 11 and a 12 among the numbers that I was sitting on. Which is not a good start. But I was lucky. We rolled both 11 and 12 a number of times! You gotta love the dice sometimes. This was able to place me in the running during the mid-game. However, the dice eventually turned back to their expected distribution. Sigh.
Ed apparently was hating this game. Enough to leave. Fortunately, Marty had arrived and was more than willing to take his place over. In a couple of turns, he had doubled his score. And the game ended a half an hour later with Mike finally claiming enough victory points for a win.
We ended with a game of Tichu.

03/19/2009 The scorecard for a game of Tichu

GT or T bet

made

or

lost



This team scored

more points

than the other or

one twoed




GT/T
Team #1
GT/T
GT/T
Team #2
GT/T
MarkH & Jon
MikeCh & Marty
125
T+
275
125
60
T-
370
GT+
T+
375
T-
415
485
715
T+
705
GT+