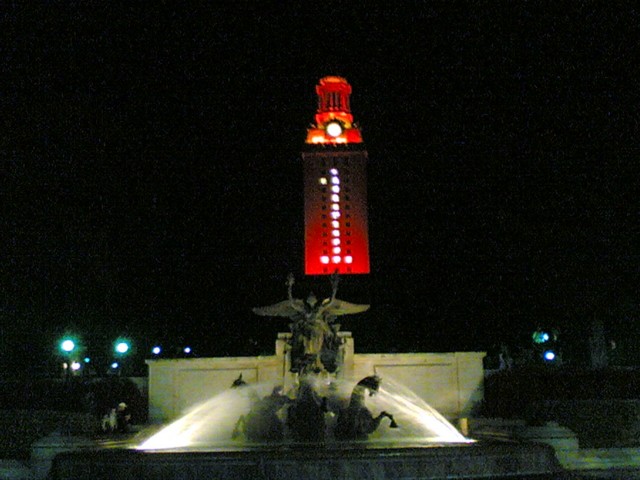 Well, I wasn't about to let a little thing like a flat tire prevent me from going downtown and photographing the UT tower at night. It was a little interesting driving my truck. I kept the speed at 55 MPH the whole way up and down the interstate roads. And I was passed by everyone! I think that was the first time I had driven so slow…
I was a little worried leaving my flat tire in the bed of the pickup truck at night in the UT area. But I hoped for the best and went off into the night. It was pretty crowded there! I think every Austinite felt the need to take pictures tonight. I went tonight because there was going to be a celebration tomorrow night and I thought that it was going to be a freaking mad house.
Most of the people were by the fountain facing north towards the tower. So I wandered off to see what the west facing view would be like. And there were only a handfull of people around taking pictures. Much more reasonable.
I was able to get some pictures of two sides of the tower. And then I wandered back to the fountain. Where I waited paitently to get set up for a photo. I met a nice guy called Rod and we chatted about Canon equipment and taking pictures. I also found out that he was an IBMer and lived in Round Rock as well! Its a small world sometimes…
I should buy photoshop sometime and work with the RAW files a bit. See if I can tweak them and improve them a bit. Anyways, here are the results. The tripod was not set up perfectly plumb. But live and learn…
Afterwards, I went to a good vegetarian restaurant called Veggie Heaven. I would recommend it to anyone and I am not a vegetarian…