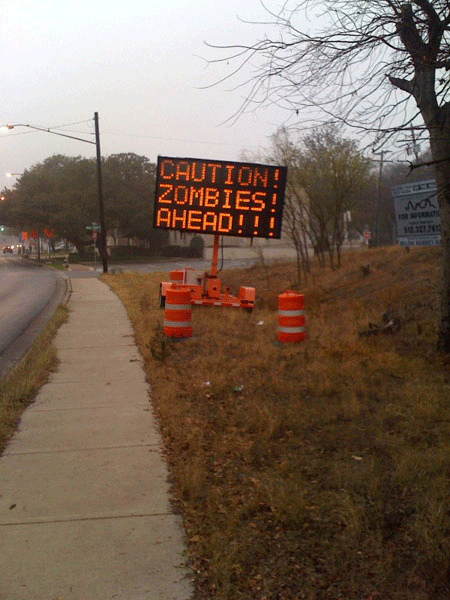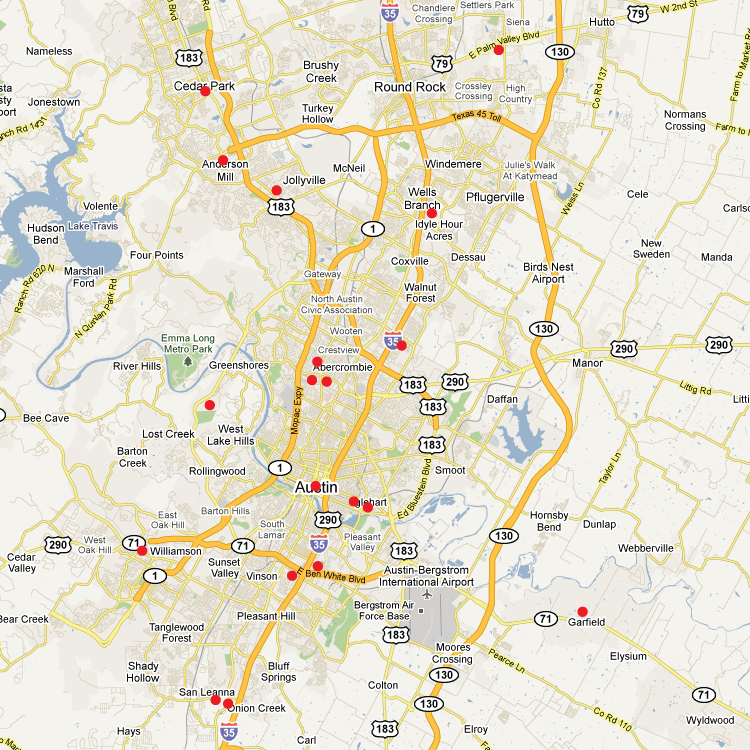 Dramatis Personae
Samantha Parker: A South Austin type young woman who works in an Antiques store. She is streetwise, stealthy, can lock-pick, and is a survivalist based on her having been a teenage runaway that spent a few years on the streets.
Manny 'Ace' Gomez: He is an ex-army infantry and now owns a lawn-maintenance company. He is a disc-golfer and pot-smoker. He is also paranoid, loud, and a gun-nut. Edges: Luck, Great Luck, Quick. Hindrances: Overconfident, Minor Habit (weed), Big Mouth. Skills: Stealth, Shooting, Driving, Fighting, Climbing, Survival. Main Attribute: Agility.
Mu Chen: He is a Chinese waiter.
Kyle Zander: He is a doctor.
Kinky Schneider: Kinky dropped out of UT while working on his PHD in biochemistry to pursue his music career in the Music Capitol of the World: Austin, Texas. Kinky's small frame has left him with quite the Napoleonic complex and is liable to go into a frenzy if mocked.
Magnolia Cafe on South Congress
9:00am. It's been a while since our last breakfast get together. Too long. I was happy to see everyone. But that mood did not last for long. The local FOX morning news show started talking about rumors of a Zombie sighting in Austin. We tried brushing it off, but everyone got spooked. So we decided to head down to Tex Guns and buy some weapons for self-defense. The place was busy when we got there and was quickly getting swamped. Since I have never fired a weapon before, I bought a nightstick and a knife.
We then decided to head down to Southpark Meadows (Slaughter Lane and IH-35). So we all got into the car and started driving. But, when we reached East Stassney Lane and South Congress we saw our first Zombie! People started freaking out. And a big wreck happened right in front of us which shut down both lanes of traffic. We knew that the roads were only going to get worse. So we had to head to somewhere safe. Chen told us about El Borrego De Oro, where he had worked previously. So we started walking North up Congress Avenue. People were mostly minding their own business and we had no problems reaching the restaurant.
10:45am. Inside, the place was calm. The TV was giving non-stop news about Zombie sightings. There were a lot in Williamson County but none in Manor, Bee Caves, or South of the Airport.
Around 11:00 am, people started running outside. When we heard the commotion, we started to barricade to front door. But we were not as quick as we wanted to be. 21 people made it inside before we finally reinforced the doors enough to remain closed. People were still agitated and one person freaked out enough to want to leave the building. Of course, we were not going to let this happen. Thankfully, Chen knocked him out before he could open up the door.
Zander tried calling St. David's South Austin Hospital for information. But they were extremely busy. They told us that they "were up to their nuts in guts" and hung up on us.
Unfortunately, our building was not as reinforced as we would like it to be. And we could now see some Zombies wandering around aimlessly outside. So we decided to head to a better fortified position: Camp Mabry. We opened up the back door and spot some Zombies and quickly close it again. We need some diversion to make a run for it! Chen comes up with the idea of putting the unconscious man on a serving cart and pushing it away from the building. We close the door and wait while the Zombies gather around the cart and start feasting…
With the immediate area now clear, we slowly make our way outside. Chen climbs up a ladder onto the roof to act as a look out. However Zombies from the North noticed us and start shambling towards us. We now run for safety. Unfortunately, my initiative is at the bottom. Everyone runs towards the South. I call for help. Gomez takes a shot (at a disadvantage) as he runs away. Zander takes a shot at another zombie before he too runs off. Parker and Chen just bolt. Two Zombies shamble up to me and take swings at me. Both miss and I am now able to run away! Thankfully, it is quite easy to run far enough away to lose the Zombies.
12:00pm. We make it most of the way to Mabry. At Guadalupe Street and West 38th Street. However, when Chen climbs a roof again to reconnoiter, we see destruction between us and where we think Mabry is. It is better now to head East as that still looks safe. So we head towards Hancock Golf Course.
1:00pm. We arrive and find the place deserted. We look around for something to help us out. Chen comes up with the bright idea of stealing some golf carts. We then head East towards Walnut Creek Nature Preserve.
3:00pm. We arrive and look around. There are some abandoned cars in the parking lot. Since we need a faster mode of transportation, we hot-wire a car. Unfortunately, some people saw us as we were driving out and run towards us screaming for help. We do not want to get bogged down, so we run over them with the car. And, just to make sure, we put it in reverse and back over them again, before taking off towards Manor.
We drive past Manor and make it to Elgin. We notice a huge National Guard presence and relief effort. We stop and talk our way into the complex and into safety…