While we waited for Doug to show up, we played some Tichu. My 1223345555Ph777 somehow stopped Jon's Tichu call. And, afterwards, John plays a 6 bomb. So there was no way Jon could have made that Tichu call…

07/19/2007 The scorecard for a game of Tichu

GT or T bet

made

or

lost



This team scored

more points

than the other or

one twoed




GT/T
Team #1
GT/T
GT/T
Team #2
GT/T
MarkH & JohnG
MikeCh & Jon
45
T-
-15
415
T+
-15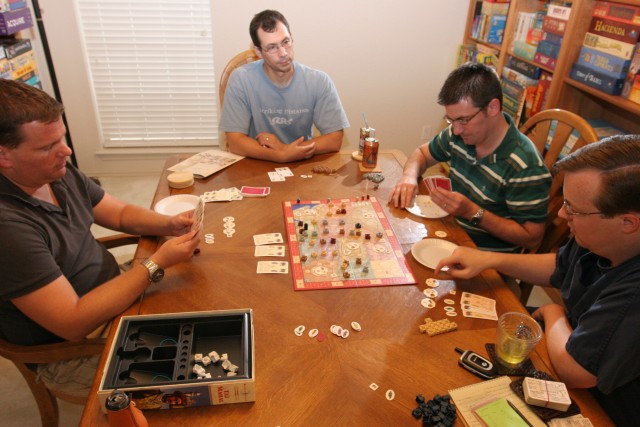 I always like playing this Knizia game. Although with five people it can be tough to know what battle others will get into. You do not want to fight somewhere where everyone else is. I did make that mistake early in the game. In an elephant battle with two others. If I would have stayed out of it, I could have got second place. Still fun playing it though.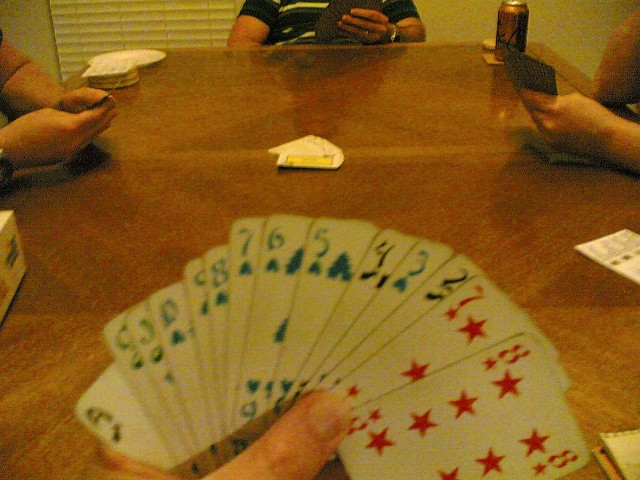 And another game of Tichu to finish up the night. This one being a full game. On our second one/two both Dough and Mike had long run bombs. And yet they were unable to stop us from going out one/two. Doug's was a length seven straight and in the lengthy questioning from Doug, the following statement came out:
Doug has the longest one I have ever seen!
Which led to much ribbing. On Mike's second Tichu call, I had the above hand. Which contained the rarely played straight with a bomb inside of it. I think that it is the second-most annoying type of bomb (the intersection of two bombs (a straight and quads) being the first and the Ace bomb being the third) there is.
For our final one/two, I had AKKQJ and a Mahjong through nine with a Phoenix in there somewhere. Yet I didn't call Tichu with it. Too wussy I guess.
We lost by 5 points! Argh! Close game though…

07/19/2007 The scorecard for a game of Tichu

GT or T bet

made

or

lost



This team scored

more points

than the other or

one twoed




GT/T
Team #1
GT/T
GT/T
Team #2
GT/T
MarkH & Jon
MikeCh & DougG
0
T+
200
200
400
200
T+
340
495
T-
495
505
495
705
T+
610
810
790
T+
810
995
T+