Matt decided that the Meta game would be a game of Kill Dog. So we played one practice game. Not a bad game. No one got in the mood and acted like a criminal. The game would be better with real money and plastic squirt guns filled with water.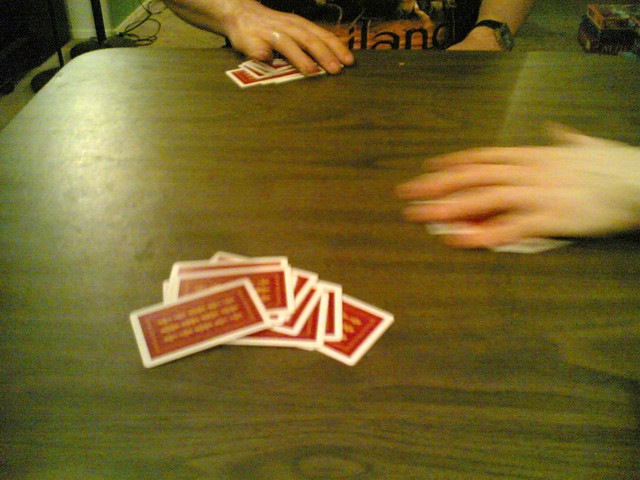 Yay! Another game of Tichu! Sadly, I have gotten to the state where this is the only enjoyment that I get out of Russcon. I'm flawed, I know.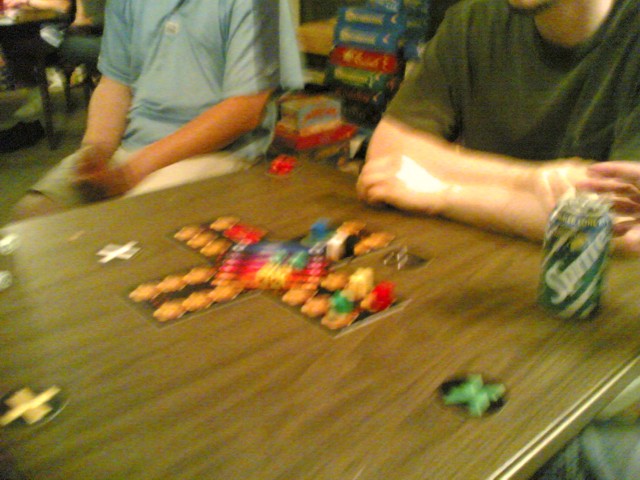 This game of Exxtra royally sucked for me! There were two new gamers playing this game and they did not make their own decisions. For example, at the beginning of the game, I had rolled a 7-3 and placed it on the 4 (leaving the 5 open). Play continued around the table until the person on my right's turn. He rolled a 7-6. Everyone started shouting to knock me off and he grinned and did it. So instead of getting 5 points for himself, he chose to take 3. Sure, during the game you knock off the leaders or people who you are competing with. But at the beginning of the game when we are all still at 0? Make your own decisions and don't listen to other people and help them win at your own expense.
Of course I was knocked off repeatedly during the game and came in last.