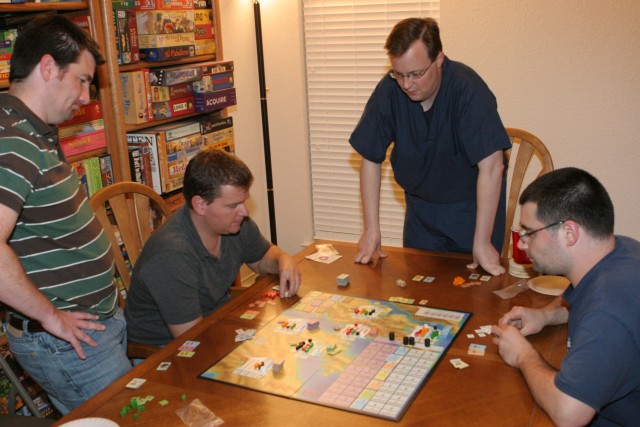 Wow, Jon suggested that we play Perikles and everyone agreed. Pinch me, I must be dreaming.
I was definitely glad that I got a chance to play this again. But it will probably be my last time with this group. I don't think others came away with a good impression of it. Doug kept loudly proclaiming that I was in the lead and everyone should get me. However, in the end, Doug won the game and I came in third. Sigh.
To finish out the night, we played Tichu. On my failed Tichu call, I knew it was a risk when I called it. And Doug confirmed it when he over Tichued.

03/29/2007 The scorecard for a game of Tichu

GT or T bet

made

or

lost



This team scored

more points

than the other or

one twoed




GT/T
Team #1
GT/T
GT/T
Team #2
GT/T
MarkH & Jon
Doug & AdamR
T+
-15
130
T+
270
330
415
T+
T-
350
T+
385
T-
535
T+
595
820
GT+
695
T+