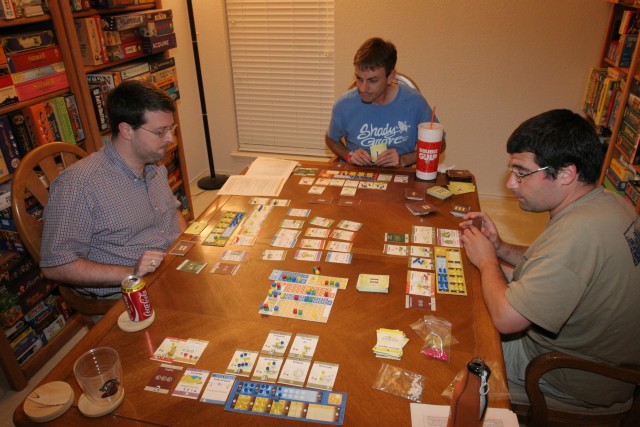 Marty was in town and wanted to play a full game of TtA. And he didn't have to twist Adam's and my arm to get us to play. Weirdly, Chapel couldn't make it. So, Marty invited Harry over.
This game probably took us five hours to play. I went to bed after 12 which meant I lost some precious hours of sleep.
I was able to get Michelangelo as my era 1 leader. Mainly to stop Adam from getting it (he had St. Peter's Basilica) but I was able to turn him into a point generator. My second and third era leaders were not so good (William Shakespeare and Elvis Presley). Fortunately, I was able to draw the assassinate leader card. And discard it eventually when I didn't think that my military would get up to strength. Sadly, after that, Adam jumped out into the lead with Sid Meier. I was only able to attempt a raid on him which he defended against.
When the game was in its last round, Adam declared war on me. Usually, the defender gets a chance to respond and build up its defenses. But not in this case. And I had just spent my military in getting a +11 victory point colony. Flawed!
When the scoring was over, I was able to pip Marty by a couple of points for second place! Woo woo!