BGG.CON is finally over with. This is the biggest convention for this year and, by far, the most eagerly anticipated. And that is because it is held right after Essen. I made quite the long list of Essen released games to try out. Which included:
Age of Steam (new boards)
Texas Hold'em
Eating
Age of Steam (new boards)
Age of Steam is a game that I hold in high regard. The rules are somewhat simple. And the result is a tight game. But what is even more surprising is the number of maps that this game has produced. It is not just another layout of terrain in the shape of a landmark either. Usually the rules have been changed somewhat as well. Which results in a different game. While that is a cool thing, this game has been a victim of its own success. You can easily spend five hundred dollars buying all of the expansion maps to play with this game. Unfortunately, I never got a chance to play Age of Steam at the convention.
Agricola
This game was easily the most hyped game of the convention. While I was looking forward to playing it, I learned that Mike Chapel bought a German copy of the game and it arrived before the convention started. So this game actually moved off of my list of games to play. My focus was on trying new games out and not games that I could play whenever I wanted to with my game group. So, this was the game that I most regretted playing during the convention. And it was for a number of reasons. The biggest reason was the sheer amount of German text that had to be translated. There are over 300 cards in the game and they all have a lot of text on them. We had to take time out to painstakingly copy the translation of our cards that we drew from the deck (15sh). Also, I watched as a game of Supernova started up after I just began playing this game.
I will hold off on buying this game because of the size, the randomness, and the question of balance of the deck in this game.
Amyitis
This is the most surprising game of the convention for me. For some reason, I never played this game. It was not in the library for me to check out. And I did not see a game of it starting up.
I guess I will have to purchase it and play it at home.
Army of Frogs
I got a chance to play this at a Russcon night before the convention. There are a number of things to like about this game. It has Bakelite goodness, simple rules, and thought-filled gameplay.
I probably will eventually buy this game.
Brass
Mmmmm, Martin Wallace. A designer of a number of games that I like. So I definitely wanted to try this game out. This is not as intense as Age of Steam is. My playing of it was okay. And I hope that further playings of it will bring out some reasons to rate this highly.
This is definitely on my buy list (sadly, it is a F.R.E.D. game so the price will be high).
Container
A new Delonge game that I wanted to try out. This game had a number of things going for it. There were resin pieces, and there were two separate markets and an auction. The resin pieces turned out to be a dud when the color matching (to the already existing wooden pieces) failed miserably. We did not even bother playing with the resin pieces during the game. The fact that there were a number of markets to contend in was interesting. However, this game played far longer that it seemed like it was meant to.
And that tainted it for me. Enough to bring it off the buy list.
Cuba
A new Eggert-Spiele is a good sign. That company has produced a number of games that I like. And this game has Puerto Rico mechanics that I find interesting. For this game, I was outside of my comfortable Austin group. But it was not difficult finding players. I placed it out on the table and started to read the rules. Not long afterwards, some people came up and the game was full. One of the even had already played the game before and knew the rules. There were two hiccups though. Apparently, the rules are misleading about how you receive the buildings. We received clarification from an official Rio Grande game explainer and started the game. However, for some reason, the group wanted to switch to the other interpretation. We played that way for a bit when the group finally realized just how flawed it was and switched back again. Sigh. The other problem was the awfully slow player in this game. I also wonder just how much replayability this game will have. There are two boards that you can use but will it be enough?
I will still get this game. And just hope that my worries are unfounded.
Darjeeling
After watching The Darjeeling Limited, this game made it to my list. Unfortunately, I did not get a chance to play it during the convention.
So I guess that it is another game where I will have to buy and take a chance on.
El Capitan
This Kramer reprint/remake also made it to my list based on the designer. However, I did not get a chance to play it.
I am taking enough chances right now to add yet another game to the buy list. I do hope however, that someone else that I know locally will buy it.
Felix: The Cat in the Sack
Friedemann Friese is another favorite designer of mine. And it was an added bonus to meet him at this convention. I was able to successfully convince Russ and Anna to play this game with me. It turned out to be a somewhat light bidding game with just enough hidden information to make the decisions challenging.
This game is another contender for the lightweight filler game and a buy for me.
Galaxy Trucker
I actually took a big chance and preordered it before the convention. And I was glad that I did. This is a much better game than Factory Fun. Instead of simultaneously piecing together a factory, you are building a spaceship. But that is only half of it. After you build your ship, you send it off across the galaxy in the hopes of getting victory points. However, the events in this game can be brutal at times. Fortunately, they affect everyone equally. So the best ship will win the round.
Giganten der Lufte
This is another dice game where you start off small and slowly build up your dice rolling power. Which you can then claim victory points with. However, this game fell flat will me. Well, its more like it exploded like the Hindenburg with me. To Court the King is a much better game in this category of dice games.
The burning remnants on the ground are testimony that this game is not on my buy list anymore.
Gipsy King
This is yet another game that I did not try at the convention. And I hope that someone else will buy it so that I can try it out.
Hamburgum
Wow, this is the third game to be released that uses a rondel as the main mechanic in choosing your actions during the game. And it surprised me that the game felt different enough than Imperial or Antike.
This game certainly remains on the buy list after one playing.
In the Year of the Dragon
This is Alea's latest game in the big box series. It was pretty thematic and very brutal. There were a lot of tough choices to be made. You see, you want to score victory points. But you have to avoid the catastrophic events that are happening (famine, plague, Mongol hordes,.and taxation). These bad events will reduce your victory point earning potential. There is only one good event after the initial peace, and that is the fireworks display where the best fireworks scores victory points. You start with two people and have cards to select the rest. The only catch is that you have one card for each person with two extra wildcards. So you have to plan ahead over the course of the game to consider which card to play when. Also, there is a race of sorts where the most popular person gets to select first. This is definitely a good thing. Being towards the end of the group is painful.
This certainly seemed like a worth addition to the game library.
Kaivai Expansion
I don't think that I saw anyone playing Kaivai (expansion or not). I am hoping this expansion betters the original game.
King of Siam
This only made my list when I saw that Russ had brought it to Russcon from Essen. And I am glad that I tried it out during the convention. This seems like a good three player area-majority game. Everyone starts with the same set of action cards and they fight for the lead of the faction who controls the most provinces on the board. And, kinda like Liberte, there is an alternate ending where the British gain control of the country. Originally, I was fighting a tight battle for the lead in the red faction. But, towards the end of the game, I realized that I could switch over to the yellow faction for the win.
This game doesn't seem to be orderable from game stores in the States. Which would make it tricky to purchase.
Kingsburg
Oh look, another dice game where you are trying to build up your powers. But here you do not build up your rolling abilities. Instead you build buildings which give you abilities or victory points. For a game built on randomness, there is not much flexibility to it. So I was not too impressed with it.
Maybe someone else in the group will buy it. But, even then, I don't think that I would play it much.
League of Six
My one playing of this game fell flat for me. No new mechanics grabbed me. The theme was flat as well: Medieval tax collectors — zzz… wake me up when it is over, please.
I am not saying that I won't play it again. But I will leave buying the game for someone else.
Key Harvest
I definitely wanted to play this game, but I did not get a chance. Oh well, I guess that I will have to take a leap of faith on purchasing it.
Race For The Galaxy
Oooh, another Sci-Fi themed game. This one is based on San Juan but the card actions are a little meatier. The artwork is nice and the icons used to explain the results of the actions are helpful.
I will definitely buy this game.
Space Dealer expansion
I like the simultaneous real-time actions in this game. And I think that this is the only game that I own that has a music track with it. So I was interested in seeing what the expansion had to offer. But I never saw it being played during the convention.
This game was a try before a buy for me. Unfortunately, since I didn't try it, I will wait for someone else to buy it.
Supernova
I am still bummed about not playing this game…
Tichu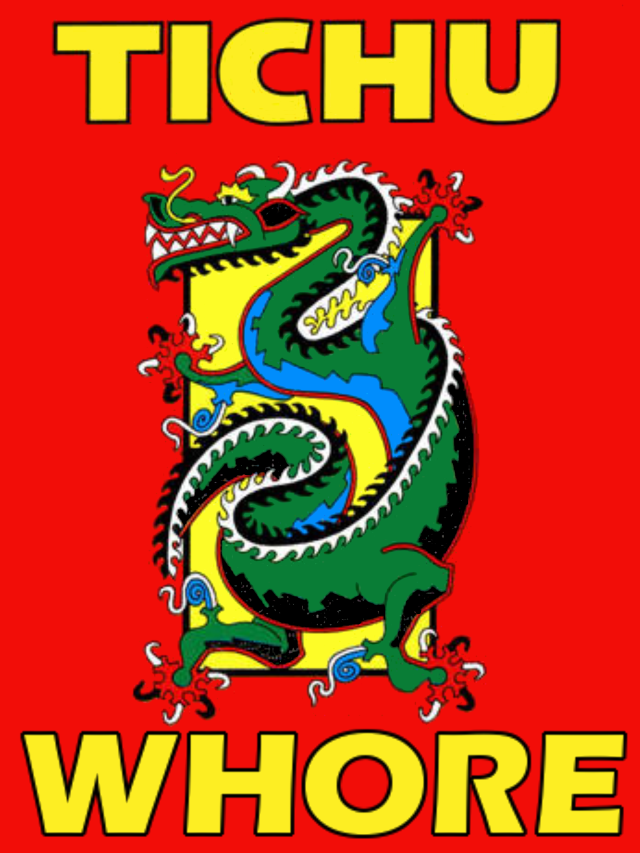 I printed off a couple of Tichu tee shirts at the last second on Cafe Press. It was pretty easy to do. And certainly prettier than this version. I played six games of it. But, sadly, not against Aaron Fugei, David desJardins, or Derk.
Tribune
I didn't get to play this game either. I am hoping that someone in the game group will buy it so I can try it out.
Texas Hold'em
This year's Hold'em contest was lame. While I appreciate all of the effort that went into making this event happen, the event was still a disappointment for me. Instead of competing for board game prizes or gift cards at online game stores, this event was different. The final table received the video game: World Class Poker with T. J. Cloutier, along with some poker books for 1st and 2nd places. This event was sponsored by a video game company and it showed.
Adam was the first person to lose at the event! I played pretty tight during the whole game. But I never got many good hands to play with. Pocket tens were the best starting hand. One time I had the nut flush. The person with a King high flush was all in. And Gravitt was trying to bluff me out of the pot. I know people were pretty loose at this event. But I had nothing to call them with. One lady was playing any two cards…
At the break, I had 3280. I made the final, green felt covered, tables. But I was running out of chips. I managed to quadruple up on a pair of pocket eights. I then made the final table of ten people with 3700. When we were "chipped up", I won the chip race and started with 4 hundred-dollar chips. I was two hands away from the big blind. For both of those hands, I chose not to risk it. Finally, I am "all in" in the big blind. Luckily, I get an Ace and a Jack. Two other people call. Fortunately, I was not up against pocket pairs or an Ace with a higher kicker. I have a chance of tripling up! But I lost to a full-house. Oh well, at least I got all my chips in when the odds were in my favor.
Eating
Not a game, per se, but still an enjoyable activity. We went to Texas De Brazil (on 2727 Cedar Springs Road) for the third year in a row. It is still worth going to. 1720 William D Tate Avenue Grapvine, Texas has a bazillion chain restaurants around that location. We went to Bone Daddy's House of Smoke (Gravitt went there three times) and Red Robin. One place that I missed was Campisi's Egyptian Restaurant (on 5610 East Mockingbird Lane). It is world renowned for its pizza. I guess, for the next year, I might have to drive up there just to guarantee that I can make it there.
Other sightseeing possibilities
Next year, I also want to arrive early and check out Half Price Books in Dallas. Supposedly, it is their largest store.