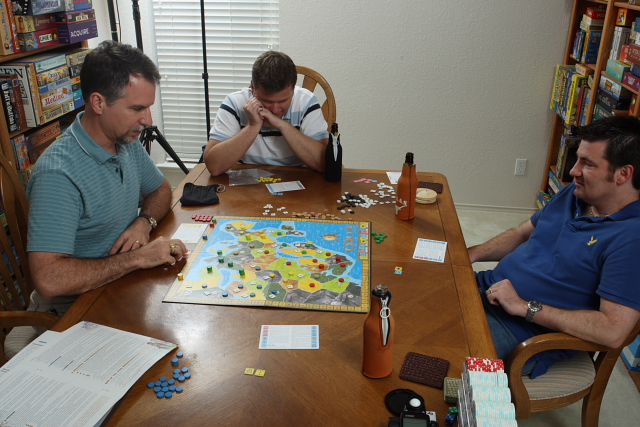 Well, I broke down and bought a new lighting system. Two Alien Bee lights. And boy do they pump out light. My old pictures were usually (ISO 400, 1/60sec, f/5.6 exposure compensation pushing the default depth of field out to a more reasonable value) and now I can get (ISO 100, 1/250sec, f/10). That is like 8 times more light. I do need to halve it sometime, the flash is rather intense (even through a white umbrella and bounced off of the ceiling). Since it is lit 100% from the flash, shutter speed no longer matters. I can push it up to the max sync speed of 1/250sec. This will freeze the action at the table.
We started off the night with the classic Vinci. I haven't played this one over the web in ages. Ed still does and he was able to use his skill to come out ahead of me at least. Although Jon was able to win it in the end.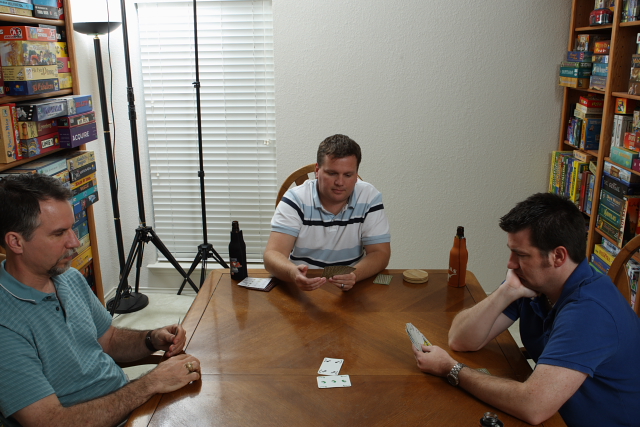 We surged right out of the gate. Two tichus and one-twos gave us momentum. And yet, the other team flew by us at the end. Pushing out their chest just far enough out to break the ribbon.

07/17/2008 The scorecard for a game of Tichu

GT or T bet

made

or

lost



This team scored

more points

than the other or

one twoed




GT/T
Team #1
GT/T
GT/T
Team #2
GT/T
MarkH & MikeCh
Ed & Jon
300
T+
0
40
390
T+
420
T+
720
280
750
795
T+
525
890
GT+
890
1210
GT+