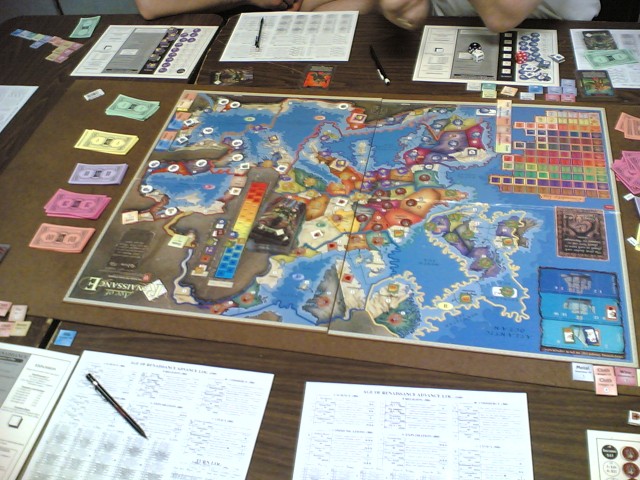 Next up was a long and meaty game at Great Hall Games. Marty, Adam, Jon, Harry, Brendan, and myself played this game. It was a first for Jon, Brendan, and myself. Although, I have played Manifest Destiny before. I was France and stayed mostly within Central Europe. I didn't get ships for far too long in this game. I was bummed at the start since one of my cards was a metal card and there were two metal spots next to me. But both Marty and Adam claimed those spots before I could and I could not win them back for quite a while. And this game penalizes you for holding cards and not paying them. You pay triangle points in money for the number of cards that you hold to the next round. So that move cost me more than I made. And later on in the game, when I had conquered all of the region of France, Jon whispers into my ear that he is holding the Black Plague card. Argh! I had forgotten this card and the experience of being almost wiped out by it in Manifest Destiny. … by Jon, in fact! Anyways, I was not in the lead, so he played it against Harry, who was.
I also made another mistake once by not keeping enough money to pay to hold my cards. This cost me a misery spot. Misery spots are essentially negative victory points. And, if you get too many of them, you can automatically loose.
This was an interesting game. And one that I will play again in the future.