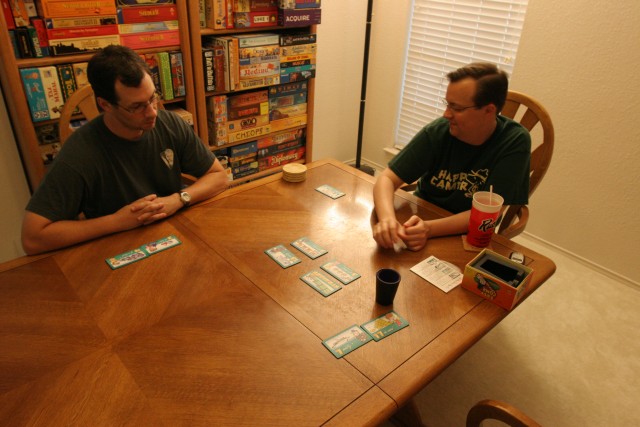 Jon call me up at 6:30 and tells me he is still at work. Sigh… Where are your priorities, Jon?! So we played some light filler games. Three games of the dice fest called Easy Come Easy Go. And the winning condition certainly slipped in and out of your fingers easily enough.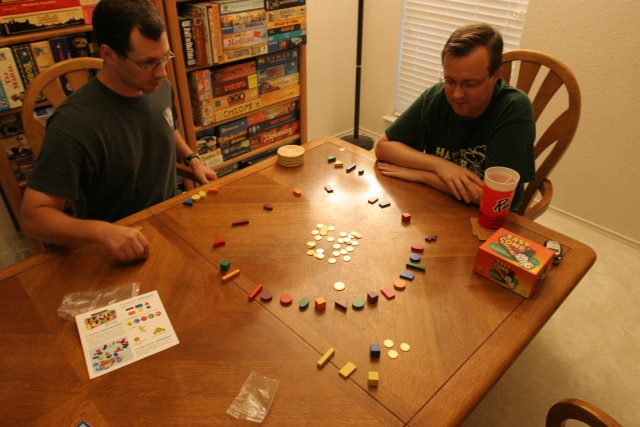 After three games of Easy Come, Easy Go, we played a game of Bunte Runde. Without the rules. But we think that we remembered enough of the key points to get the gist of it correct. The only hiccup was during the final scoring and we just played that everyone would score all of their points.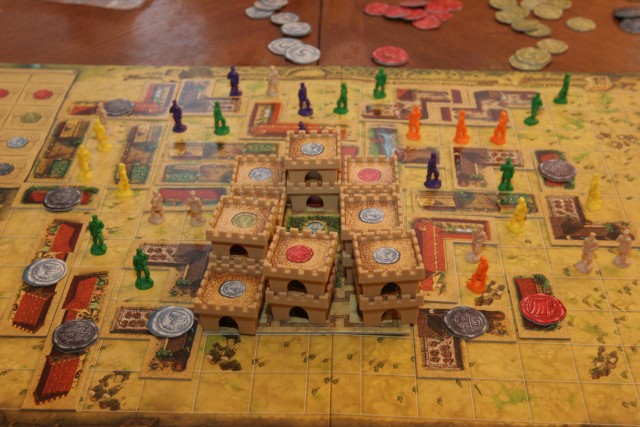 Next up was Arkadia. Which was good. Definitely a recommended game to buy. My mistake was playing off by myself and not figuring out what colors upstream people were going for and to go after them as well.
During game play, Doug had this quote:
Men are tight in this game!
So that, coupled with the strange noises Doug kept making during the game (annoying his brother Jon), got us off on a tangent. We made strange noises as well and said that they were porn noises… Poor John dealt with us with patience.
On Doug's third Tichu call, he had two bombs (an eight bomb and a two bomb). And yet I still was able to stop him. I was a little bit too safe during this game. And it cost me the win. In hindsight, there were two Tichu calls that I could have made but didn't. I considered making them before playing, of course. But, in the end, decided against it. Sigh…

07/26/2007 The scorecard for a game of Tichu

GT or T bet

made

or

lost



This team scored

more points

than the other or

one twoed




GT/T
Team #1
GT/T
GT/T
Team #2
GT/T
MarkH & JohnG
Jon & DougG
T+
25
475
T+
25
T-
T+
140
460
340
T+
610
T-
290
640
T+
505
730
735
T-
760
760
940
T+
965
GT-
635
1165