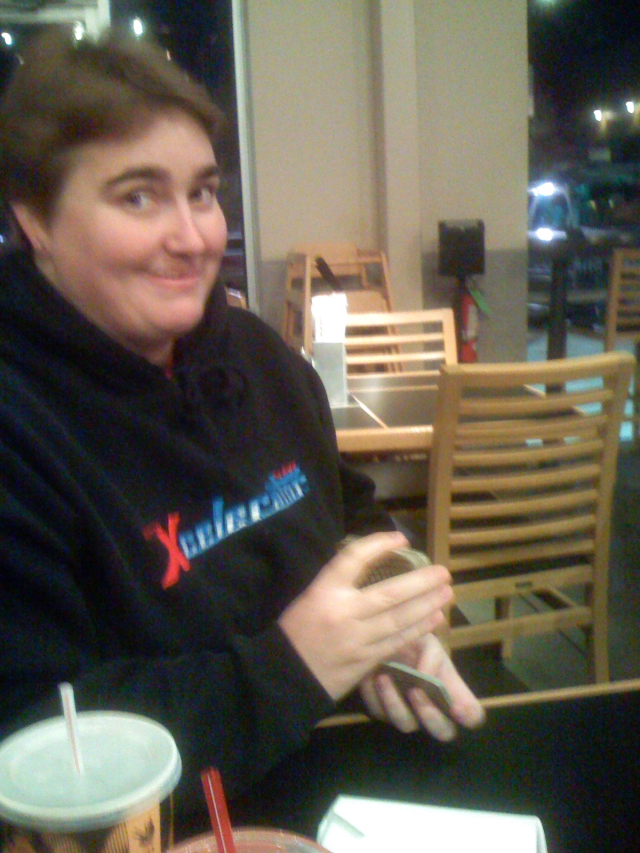 Ugh, I hate the camera in the iPhone. It is an utter piece of crap. Horrible colors, horrible low light handling, horrible resolution (1.9 Megapixels).
I had an amusing pass. I had a somewhat possible Tichu hand, so I passed John a 2. I received on the pass the Dog, the Mahjong, and a 3. Sigh. At least my partner made the Tichu. But it seemed that he ignored the implied strength of my pass. Not only that, but he told the group that I passed a two to him during the play!
For my one Tichu call, I had AAKQJ098765431. I played the King-high straight. Everyone passed. I then played the Mahjong and wished for an Ace — just because. And I passed on the Traci's Ace. Fortunately, Traci eventually played a pair. Otherwise, I would have to hope that a lot of singles would be played. Because the Dragon or Phoenix would cover my first Ace on a single.

11/25/2007 The scorecard for a game of Tichu

GT or T bet

made

or

lost



This team scored

more points

than the other or

one twoed




GT/T
Team #1
GT/T
GT/T
Team #2
GT/T
MarkH & JohnG
Traci & JohnH
T+
25
80
T-
105
T+
220
255
T+
290
710
290
T+
380
850
1050
T-
350