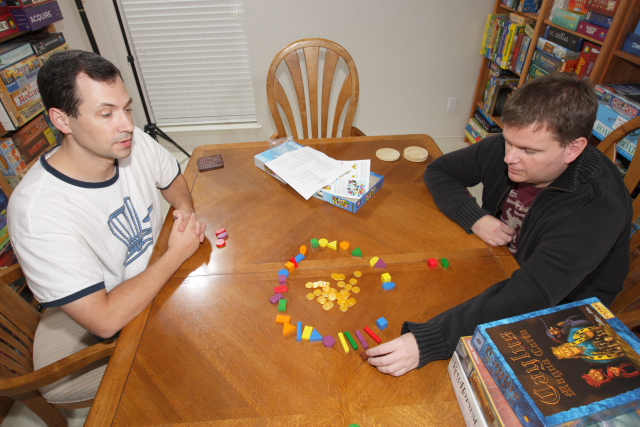 While we waited for the rest of the crew to show up, we played Bunte Runde. Knizia's lightweight (but still meaty) filler game. In fact some of the players were taking a while to make their moves. Which made it a little less enjoyable than it could have been.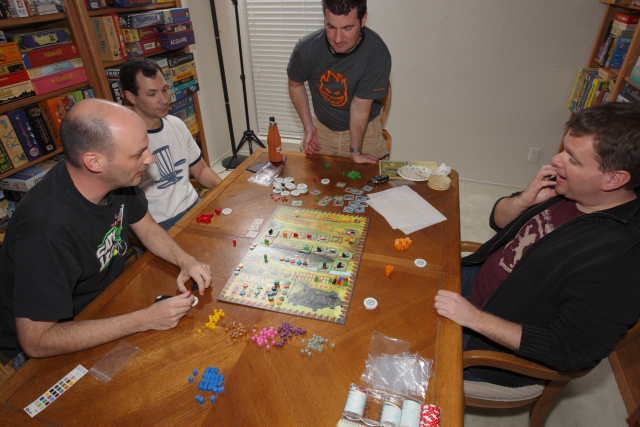 Hrm, five people… what shall we play with five people. With many, many games to choose from, we chose Caylus. Which had not seen the table in quite some time. This game was rather unique. (Aren't they all in their own special way?) The resources were smothered in this game. It started off with stone. And it continued for all of the other one resource tiles. Until they all disappeared. Another factor in this problem was that only one two resource tile was built. This made building pieces in the castle rather scarce.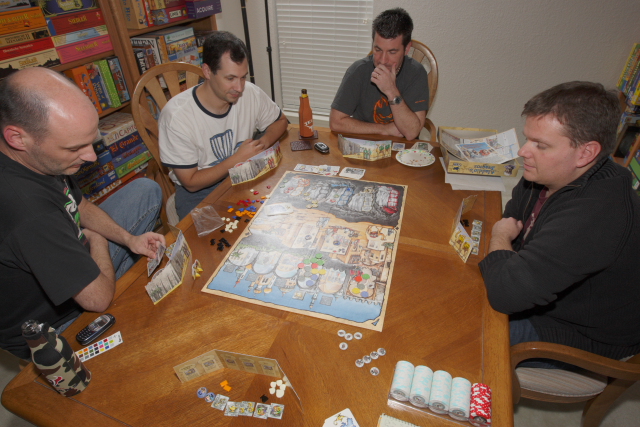 Next up was another game that we have rarely played. In fact, I have only played it once over six years ago. Its not a bad game if you like blind area majority games.
To finish out the night, we played another game of Tichu. My first Tichu was a little risky when I called it. And when Nick over Tichued me, I was worried. But I went out first. My next Tichu was a over Tichu to Nick's. With two aces, a Dragon, a bomb, and a length 5 straight, it was not a hard choice to make.
Towards the end, the opposing team got desperate. And then the final hand happened. We only need 10 points for the win. So John was very careful. Careful enough not to call Tichu with an Ace bomb and the Dragon.

12/20/2007 The scorecard for a game of Tichu

GT or T bet

made

or

lost



This team scored

more points

than the other or

one twoed




GT/T
Team #1
GT/T
GT/T
Team #2
GT/T
MarkH & JohnG
Nick & Jon
T+
110
T-
310
-10
350
T+
355
T+
370
460
440
760
T+
T+
T-
670
715
805
T+
945
T+
990
GT-
1015
GT-